News & Events
>
Spotlight Saturday – Meet Carolyn Eaton – Activities Aide
Spotlight Saturday – Meet Carolyn Eaton – Activities Aide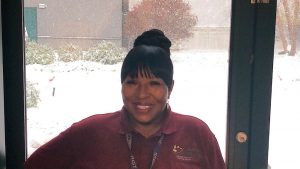 For this week's Spotlight Saturday we would like to introduce our very own Carolyn Eaton, Activities Aid. It has been said that you can judge a society on how it educates it's young and cares for it's old. If everyone had the same caring heart as Carolyn Eaton this premise would become a reality.
Carolyn's work experience includes working for a daycare, work in a shelter for women and children, and as a therapeutic activities aid in nursing homes. Everywhere she goes she aims to be what she describes as a "brick in the wall." She wants to be part of the structure and team that helps to build a community.
Aside from work, Carolyn is very family oriented. She is the mother of six children and three step-children, and a grandmother to two children. Carolyn also helps to care for her mother. When asked her how she balances her hectic schedule between home and work she said, "I just love them both. It's not always easy, but you need to take it as it comes. I always keep it positive." Her co-worker interjected to say that she thinks Carolyn is "Superwoman" for maintaining such grace while caring for so many people. Her caring does not stop at her home or professional life. She cares for all people, telling about how she and her husband spend Christmas bringing food and blankets to homeless people.
Her proudest moment is watching residents and other staff members smile. She loves to bring people joy. Carolyn aims to make the final chapter of our resident's lives as joyful as can be. Her advice to anyone starting out a career in long-term care is, "Be persistent, be humble, be patient, and pray."
Thank you for your dedication to Kearsley, Carolyn!
To learn more about our Career Opportunities please visit our Careers Page: Click Here